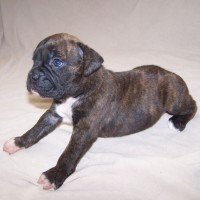 " Perfect puppy! We have had our brindle boxer puppy for almost 2 weeks now! When we picked her up from the airport she was in perfect health and arrived when and where we expected her. Our dog's papers were mailed promptly after her arrival with evidence that she was well taken care of! We are so pleased with our new puppy's health, appearance, and her social skills. If we ever had to buy another puppy online, we would definitely buy from this breeder! Thank you! We are so happy with our new addition! ~November 20, 2010 "
– Alisha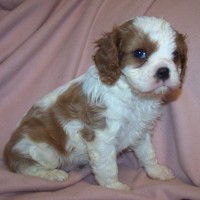 " We just picked up Blaze (King Charles) from the airport. First of all he is an excellent puppy. Our transaction with Laurie went smoother then I would ever have imagined. Laurie is very sweet and completely honest. She will get my recommendation with the highest of honorers. Thanks again to a wonderful breeder we feel very blessed. ~August 2, 2010 "
– Tim & Linda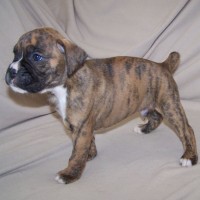 " Great Experience!! My family was looking for Brindle Boxer and was very nervous to not only purchase a puppy on the internet but to have one shipped from far. Laurie was very informative and kept great communication with us and had answers for every question we had. I was also happy I could see pictures of Rockets parents and family. Both parents are very beautiful and well toned Boxers. There's no doubt that Laurie loves and takes great care of her boxers. I would definitely recommend and purchase more puppies from Laurie Brue in the future!! Thank You for everything Laurie!! ~March 27, 2010 "
– The L'Heureux Family
" Laurie has been a big help ever since the first email. She answered any and all of my questions about the puppy that i was interested and kept in touch thru email or phone. She is very knowledgable about her breeds and keeps them good health seeing on how she has never had any health problems with any. ~March 3, 2010 "
– Daniel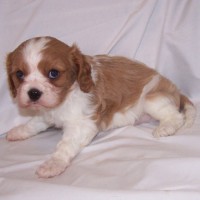 " I contacted Laurie Brue by both internet and phone and found her to be a very courteous, informative seller. My excitement was overwhelming and I now own a beautiful Cavalier that I have named Snickers. He arrived in excellent condition and exactly as Laurie said he would. He is the sweetest little guy, so playful and full of energy. I love this puppy and am so grateful to Laurie for being so patient with me and all my questions. Snickers is just 8 weeks old and I look forward to a long happy life with my new friend. I'd highly recommend Laurie to anyone looking for a dog that has been taken care of so well. Thank you Laurie. By the way, Laurie is the only seller on puppy find that returned my calls or e-mails. Need a reference? --I'd be happy to help. ~September 17, 2009 "
– Karleen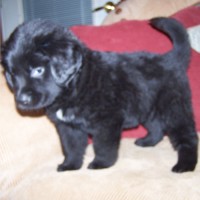 " Taiga (aka Duchess Newfy/St.B/Lab) is 14+ months and absolutely wonderful. She goes to work on campus w/Dad every day and when she's not working she fishes and plays in the water (we live on the river w/easy access). Great water dog! She is extremely bright, big and gorgeous but stubborn. Taiga learned commands and signals almost immediately but she often chooses not to listen. We've always had newfy mixes and this seems somewhat typical. I (jokingly) blame it on the lab. These pups are great. ~October 29, 2008 "
– Mary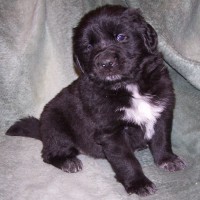 " These Pups... Buy any of the pups from this litter if you can! I have "Adams" right now and he is a dollbaby!!! His brothers are probably the same! ~May 6, 2008 "
– Sallie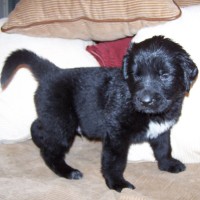 " My Beautiful Newfy Escher. My first puppy Escher ("york") arrived in October and he is everything we could have wished and hoped for! Laurie was very helpful and always willing to call back promptly and answer any of our questions.Escher is strikingly beautiful,smart,healthy and loves all people and animals. Our experience with Laurie was very positive and I would recommend her to anyone. ~February 10, 2008 "
– Ryan
" My first ever puppy purchase online. I'm john dodson from southwest georgia. I purchased ono/buckshot from Laurie Brue. Laurie is very helpful,courteous,and professional. She breeds beautiful boxers and i think i got the perfect puppy. If you would like 2 know more about my experience contact me at j.dodson69 @yahoo.com. Thanks Laurie for such a great addition to my family!!!!! ~February 8, 2008 "
– John & Diane
" Vladimir the Christmas Puppy. We purchased our Christmas puppy, Vladimir, from Laurie and we are so happy with him. He is absolutely gorgeous, healthy and has a great temperament. You can tell he was well taken care of. Laurie was very pleasant to deal with, informative, and answered my many questions. We would buy a puppy from Laurie again. Thank you for making this a wonderful and memorable Christmas and for taking such good care of our puppy! ~December 26, 2007 "
– The Masons (Tampa, Florida)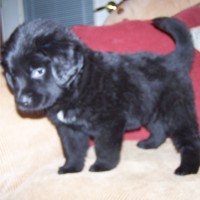 " Wonderful, healthy Newfy pup. Buying a puppy over the internet was a little strange for us but we were ready and we could not find a Newfy mix locally. We purchased Duchess (renamed Taiga) from Laurie Brue and she arrived without any hitches to our local airport. Taiga is a beautiful, healthy, smart and happy pup! She's adjusted to her new home immediately and we couldn't be happier. Thanks Laurie! ~October 20, 2007 "
– John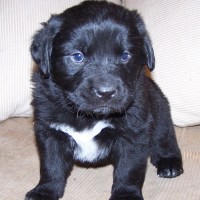 " Great Dog!! We got Tank (Winston) in March "07". He is the sweetest thing you could want out of a dog. He is eight months old. Very, very smart we had him trained to go outside the first month to month in a half that we got him. He loves to sit on your lap also. ~September 18, 2007 "
– Thomas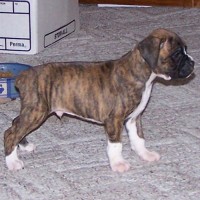 " We couldn't have picked a better brindle boxer. At 8 weeks, Champ is already eager to learn as well as being aware of his new surrounding. I was also fortunate to see Champ's parents up close and personal. Both are very beautiful and well toned Boxers. There were other Boxers on the premises that were well developed. There's no doubt that the seller has taken great care of these boxers. I was actually torn between the brindle and the fawn. Mrs Brue is very courteous and professional when answering our questions and concerns. I would definitely recommend the seller to anyone who is looking for a boxer with great development, attitude, and playful. ~June 22, 2007 "
– JT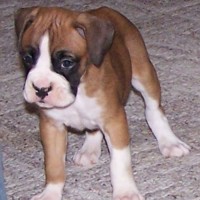 " The most beautiful boxer pup ever. I would like to thank Laurie Brue from the first call to the actual delivery of one of her boxer pups. She is absolutely beautiful!!! We have four children, 11-2, and they all got kissed the entire way home from the airport. I would recommend Laurie Brue to anyone interested in a boxer pup. She is a wonderful addition to our family. Thank you!!! Thank you!!! ~June 22, 2007 "
– The Ulrich Family
" We love our lucy. She's a great dog and has fit right in with our family. We have a special needs little girl and lucy is great with her. I would buy another newfie mix from laurie again. Very honest and quick to respond to all inquiries. ~April 20, 2007 "
– The Tufts Family (Vermont)
" Love our Samson! Of course everyone thinks they have the smartest, cutest, and sweetest dog... :-) We bought Samson from the 1/4/07 litter and while he is just 14 weeks old (we have had him since he was 8 weeks), he sits before going outside, before eating, and when we put on his leash. He will even wait for the ok when a treat/food is on the floor. My husband taught him the essential trick to lay down and roll onto his back so his feet can be cleaned after coming in from our wet spring break-up (Alaska). He is soooo sweet! We get so many comments on how cute he is, how soft he is, and how gentle (for a puppy). He loves both of our boys (9 & 4) and when they go running down the road, they are definitely a little pack of dogs! I will forever be grateful to Laurie for this wonderful addition to our family. Thank you for answering all our questions before Samson came home and helping us to feel calm while waiting for our "little" guy. ~April 16, 2007 "
– Danielle
" We purchased a Newfoundland/StBernard/Lab mix from Lauries 12/29/05 litter. Our Macie looks very much like a Newfoundland. She is a very large, fun loving, gentle giant, with boundless energy who is extremely devoted to her family and all who come to visit,(people and animals alike). I do not believe she would ever consider biting, she greets everyone with the expectation of getting some serious petting, and would go looking for it if she were not fenced in. She loves to travel in the car and looks forward to our weekly date. She has been everything we hoped for and would not hesitate to buy another dog from Laurie. ~April 12, 2007   "
– Debi
" Best Dog we have ever had! We had one of last year's puppies. These are fantastically beautiful animals. Our "Buddy" was very loving.. He was exceptionally good looking and LARGE. He DEFINITELY looked like a full bred Newfie. He loved the water and our children. He was very loyal and SMART. We lost him a couple months ago to a tragic accident. Our son was putting the trash out the back gate and he somehow got out of the cross gate and dashed right out into the alley. We sure miss him and hope to get another one of these pups soon... You cannot go wrong with these... ~November 1, 2006 "
– Jeffrey